Agata Szymanska – Why Gender Equality is not a matter of why, but how
26 January 2017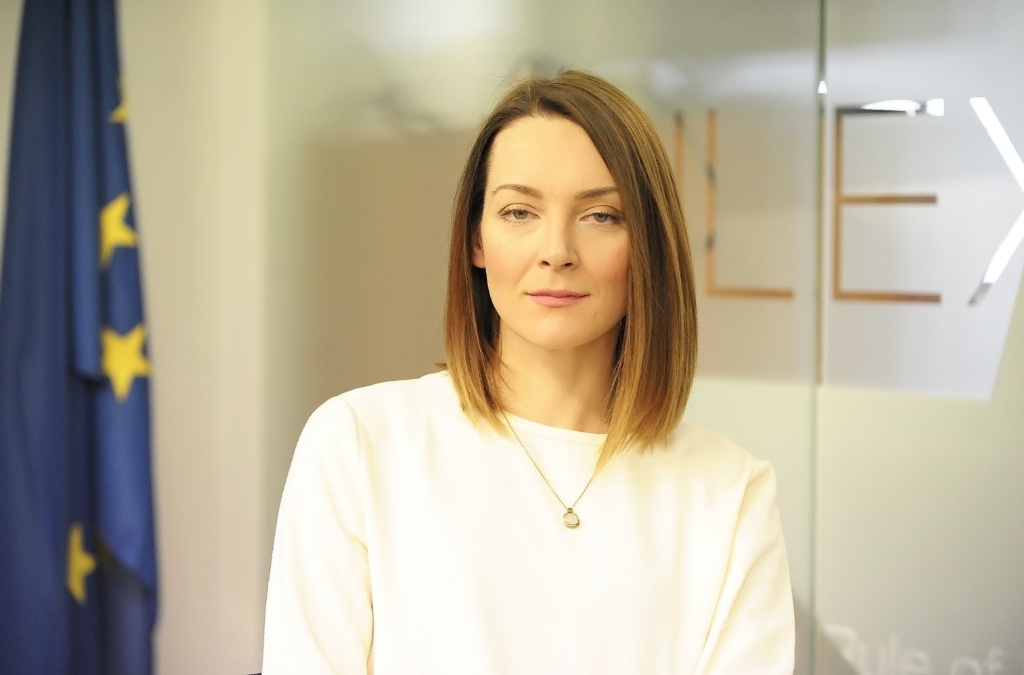 Walk into Baba Ghanoush during the blistering cold in Pristina, you may find warmth, vegetarian delights, and friends immersed in a contagious, heartfelt laugh. You may also find there Agata Szymanska, Acting Gender Advisor at EULEX Kosovo, who embodies all of these qualities. However, ask her she does at EULEX-Kosovo and the atmosphere changes from a light-hearted to a serious one. Szymanska is immensely passionate about gender issues and eager to share her knowledge.
Agata's work ensures that the Mission's activities are designed in compliance with internationally recognized gender equality standards. In line with the commitment of the Mission to mainstream gender in all its activities, a voluntary network of 19 gender focal points is embedded in various departments. The aim of the network is to increase the outreach of the gender advisor and apply gender perspective in the Mission's respective units.
When Szymanska arrived, there had been a considerable downsizing in EULEX. The network needed to be strengthened in terms of new members and new trainings. Through these trainings, Gender Focal Points (GFPs) gained the competence to carry out a gender analysis within the framework of EULEX mandate.
"Several GFP projects have been about establishing systems to collect gender-disaggregated data. This in turn allows us to analyse it and give gender-sensitive recommendations to the Mission and local authorities".
To catch a glimpse into the rest of the Balkans, during the weekends Szymanska travels as much as she can. Over the short period of time, she has visited Serbia, FYROM and Albania. To be able to experience new countries and their own unique stories, even if only for a short period is something she cares about.
When she is not travelling, Agata practices yoga and when time allows, she loves to cook. But her main source for energy comes from the interesting conversations with her friends. "Some of the people that I have met here have become very dear to me", she continues, "I did not expect to find lifelong friends here in Kosovo. But I did".
Agata has a unique background. The daughter of Polish parents, she moved to Sweden at a young age. She graduated with a BA in Peace and Conflict Studies from Malmö University and studied international politics through an exchange program in Korea and later in Vancouver. Agata would later find her passion in analysing international events from a feminist perspective.
"I recognized the importance of the gender perspective in conflict analysis", Szymanska says. She would go on to complete her master's degree at Uppsala University in Eurasian Studies where several of her peers would sometimes joke and say that she could not write one exam without mentioning gender. "Conflict affects women and men, girls and boys differently and a gender perspective is really about ensuring that both men's and women's security needs are addressed accordingly". However, "how to apply a gender competence wasn't always so obvious to me; it's a competence like any and takes time to acquire", says Szymanska with a bashful laugh, though knowing very well she has figured it out.
Agata then marched forward and worked for several years at the Folke Bernadotte Academy, a Swedish government agency under the Ministry for Foreign Affairs. In the department where she used to work, her portfolio ranged from preparing trainings on gender for the leadership within the MFA, to facilitating dialogue between various government agencies. She rose through the ranks to become the Training and Project Officer at the Academy, opening a new chapter with the role of Acting Gender Advisor at EULEX.
Although her stay in EULEX was short, Agata has made a big impression with her colleagues both personally and professionally. "Since joining the mission, I have learned so many new things; colleagues taught me about the mission and shared their knowledge with me. The learning curve has been steep, but the Mission's life has also given me the opportunity to work in a very dynamic multicultural environment with some of the most intelligent people from different parts of the world."
Unlike a footprint found in the snow, Agata's imprint is likely to remain throughout the rest of the Mission's mandate. One contribution was improving the reporting mechanism on gender- based harassment and assault.
"I'm proud of facilitating a discussion that will improve the Mission's ways to address these issues and for the staff to report it", she continues, "however, introducing new ways requires ground work and time. Time has not been on my side", she points out.
It is not uncommon that gender advisers experience resistance. However, within the Mission, Agata says that many of her suggestions have been heard. Often in training she receives questions about sometimes negative impacts of local culture on gender. Her answer is firm:
"Local culture should never be used as the rational for a moral right. Certain values are not up for discussion. Gender inequality is often justified with tradition, religion or some type of social structure. It would be, at the same time, naïve to think that certain universal rights, such as gender, can be implemented without taking the local customs into consideration. This is where strategies, advocacy and other tools come in. Working for gender equality is not a matter of why, but how".
Agata is set to leave the Mission soon, looking forward to her bright future prospects. Szymanska's path forward is likely to bring new challenges. With a smile, she is happily embracing them.
Back