From Little Rock to Pristina - Meet Jacqueline Smith
08 June 2017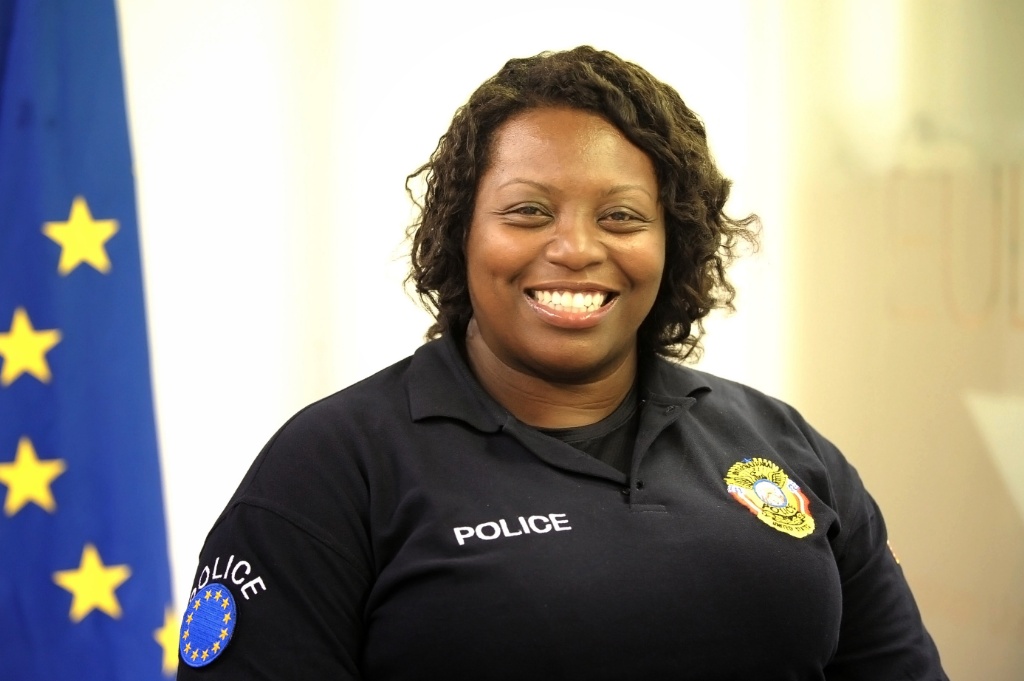 Have you ever listened to stories of unsung heroes? Those diehard police officers that patrol the streets, invisible in their efforts to keep us safe? Are you aware of their reassuring smiles that make you feel the world we live in is not going to slide from the edge of a cliff?
Meet Jacqueline Smith, retired US police sergeant who is currently working in EULEX. Coming from Little Rock, Arkansas, her life journey took a somewhat different turn just like another famous son of this place, former US President Bill Clinton.
Jacqueline was born into a family of nurses and decided from an early age to challenge the established tradition by becoming a police officer, much to the chagrin of her mother. "In the beginning, my mother was not happy for me to become a police officer. She was worried I may get killed in the line of duty. But she soon realised that being a police officer is a noble profession despite all the challenges and in the end she fully supported me", says Jacqueline.
Jacqueline joined EULEX's Strengthening Division only a couple of months ago. Her position is an Advisor that supports Kosovo Police through monitoring, mentoring and advising on how to advance Intelligence Led Policing. Her goal is not only to offer support and assist the Kosovo Police force, but also transfer some of her experiences and knowledge for sustainability after the end of the current mandate in June 2018 mandate.
"I wish to support my colleagues in Kosovo as they move towards new approaches and new practices that will advance current operations making them better", she says, stressing that communication and collaboration is a critical part of moving practices forward.
Jacqueline attended the University of Arkansas to study criminal justice with a goal of researching and teaching at the Federal Bureau of Investigations (FBI) training academy. However when she applied, the FBI's hiring freeze sent her on a journey of a thousand miles with a single step. She decided to take a police officer job offer in Atlanta, Georgia. There she stayed for over 20 years working her way up the echelons from a police officer engaged with the community to becoming a detective initiating results in domestic violence, internal affairs, and intelligence investigations. At the height of her career she retired as a Sergeant supervising around 30 patrol officers that handled 911 calls, resolving the crimes of the diverse communities in Atlanta such as petty theft, domestic violence robbery, and felony murder crimes.
Being a female police officer was not always easy, says Jacqueline, especially in asserting the authority over the male colleagues. "As a supervisor and a female, I had to prove that I was just as capable of solving crimes, catching perpetrators and being a sharp shooter to earn my male colleagues' respect. 'I succeeded with most of them', Jacqueline remarks.
She believes that the process of policing is composed of two important ingredients: professionalism and the care for the public. "We are here to help you," is one of Jacqueline's much-used soothing phrases while making important connections to the African Americans within Atlanta. Over the course of her 20-year policing service; she made friends within the local communities; she made progress and managed to help people understand the criminal justice system. "I remained friends with some people. I remained enemies with some, but most of all I cherished my strong work ethic, kept my integrity, and I grew both as a person and a professional while doing so", she says.
In the meantime, Jacqueline also pursued her academic dreams. Armed with MS in Business Administration and MS in Criminal Justice, she decided to pursue her PhD in Education all while teaching criminal justice classes at a local university in Georgia.
Though she arrived only a few months in Kosovo, Jacqueline is intrigued by its tradition and culture. "I always wanted to go to Europe and learn more about different cultures. I hope to bring some positive things from my country during my stay here. I retired early from the police force in order to come here", says Jacqueline.
But above all, she is most impressed by Kosovars. She loves when the kids ask her the names of her favorite basketball players, or when they try out the new English phrases. In return, she is currently trying to learn a bit of Albanian. Her favorite word is 'faleminderit'. She loves the fact that her neighbors are protective and watch over her.
Firm believer that one is more inspired by a journey than its destination, Jacqueline's wish is to continue with her academic studies and continue sharing her knowledge and expertise. "I love training and teaching, helping people understand issues. I relish when their faces light up, when they get it", she admits. "I learned a lot from my students. I enjoy the walk of life, exchanging ideas and interacting with the younger generation. I trust where the road is taking me", she concludes.

Back