IT Forensics – Solving Crime Within the 21ST Century Digital Highway
03 July 2017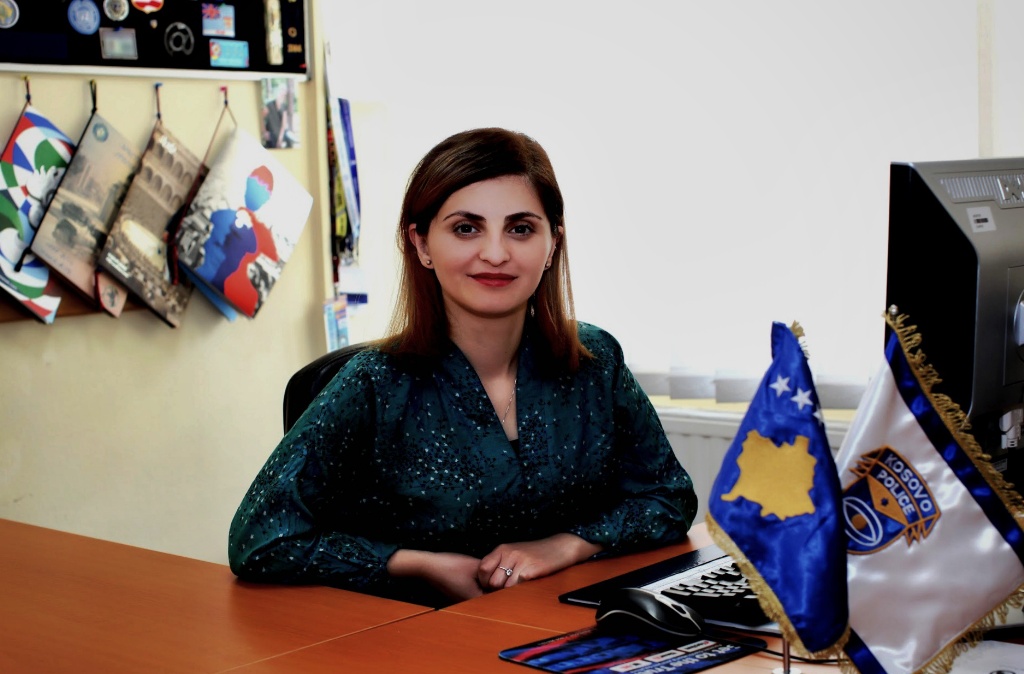 While IT forensics might not always be quite as exciting as it's made to seem on TV – forensics examiners do not physically hunt down criminals or put themselves in the line of fire – IT forensics is an important part of the investigative process. Computer forensics experts chase criminals in the digital realm or in the "cyber marketplace" which is increasingly important in today's 21st Century Digital Highway. And, while IT forensic examiners often have the satisfaction of having contributed significantly to putting the guilty behind bars – even better, they can help clear the innocent – supporting the timeless maxim that "it's better for ten guilty persons to go free than one innocent suffer."
Meet Shqipe Salihu, the IT Forensic Expert working within the Investigation Division of the Kosovo Police. She earned her Computer Engineer title when she was only twenty and she is currently finalizing her master's degree in telecommunications and computer science at the University of Pristina. "I started school at very young age and during my elementary education, I skipped few grades as I showed extraordinary skills as a kid," Shqipe explains humbly.
She was born in Pristina, but has spent most of her life in Lipjan/Lipljan, where as a child prodigy and with the support of her family, she knew from a very young age that her carrier would be related to the cyber world.
Before she started her career in the Kosovo Police as an IT forensic expert, she had many years of experience in the field of information technology. Obviously, it took her a lot of hard work and education to get where she is now, but how did it all start? "Completely by accident!," she explains. "I fell into it because of happenstance, and not by planning. I've always had a great interest in technology and an enormous respect for men and women in blue uniforms. Eventually, two interests dovetailed."
When she "accidentally" entered the world of cybercrime, she got to know the ins and outs, the particularities and the importance of digital forensics. She instantly fell in love with IT forensics, "nowadays most of the crimes are connected to information technology, which is developing very fast. Almost all crimes today – murder, drug offenses, rape cases, etc. – are somehow connected to some piece of digital equipment. "It is almost impossible that phones or computers are not used in criminal activities, and that is where my skills as an IT forensic examiner come in very handy," she says.
The IT forensic unit within the Forensic Investigations Directorate of the Kosovo Police is quite new. This unit's main role is to preserve, identify, evaluate, collect, examine, analyse and present the digital evidence in court. Most of the work is compiled in offices, however in some specific cases, forensic examiners need to be present in the field.
The workday for a professional forensics examiner is anything but typical. "Depending on what cases I work on, like a steady stream of child pornography, corruption, blackmail cases, the level of stress can be very high. Examining various pieces of equipment and trying to reveal strong digital evidence that would support and help the ongoing investigation can be very challenging?," she explains.
At the beginning of her journey in the IT forensics world, she never realized the importance of her role, but there was a case that she worked on which made her understand her crucial role in serving justice. "The evidence that I and my colleagues manage to retrieve from various pieces of equipment is very vital for every case," she said.
Shqipe is one of the two licensed IT forensic examiners in Kosovo. Awarded with a certification from the International Association of Computer Investigative Specialists (IACIS), she is entitled to testify in the capacity as an IT forensics expert in any courts worldwide. "I have a great feeling of achievement when I testify and present that piece of digital evidence to the judge, knowing that a small piece of digital evidence can make or break the case," Shqipe explains passionately.
Working as woman in a police organization can sometimes be challenging, and in her case the challenge is double. "Both professions are somehow traditionally reserved for men," she says, adding that "challenges follow us everywhere, but when you set your priorities and you know what you want in your career, you have to be very stubborn persistent."
Shqipe considers herself very fortunate that her directorate is led by very strong women. "Our director is one of the strongest and professional women that I have worked for," she explains. "She supports us in so many different projects and that is one of the main reasons why our unit is so successful."
Even though the IT forensic unit is very new, operating only since March 2014, until now it has played a crucial role in the fight against crime. "Since the very beginning, EULEX has always provided a tremendous support to our digital investigation. We use the Mission's equipment and share professional knowledge with our EULEX colleagues," Shqipe says.
Apart from chasing criminals in the cyber world, Shqipe conquers the high peaks of Kosovo Mountains. "I love alpinism and I have been doing this for more than 10 years now," she says with joy. Shqipe is the head of the local alpinism society "Blinaja" in Lipjan/Lipljan.
"To deal with very difficult cases on daily basis and see things that I would rather not to see, can be very stressful. It makes one doubt humanity. My only safe place, where I get inspired to continue the fight against criminals, is nature," Shqipe concludes.
Back