Tahire Haxholli: "You are not alone; we are here for you"
26 September 2017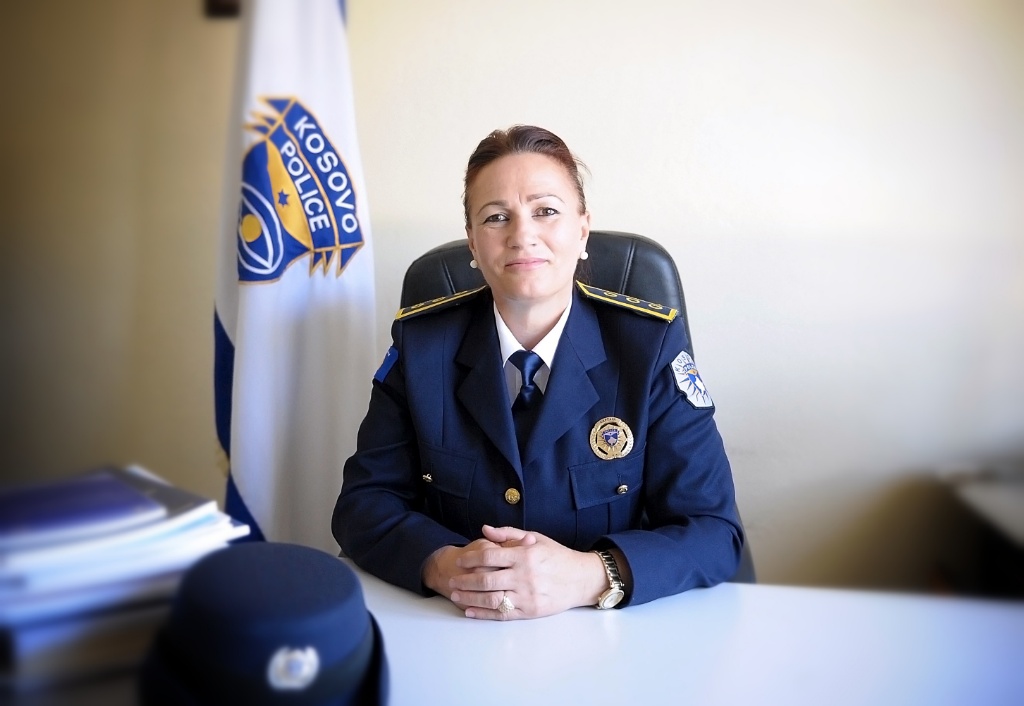 Domestic violence can take many forms, be it physical, sexual, psychological or economic. The magnitude of such violence can be damaging for both victims and the people affected, potentially leading to broken families, suicides, and murders.
For many of the victims of domestic violence who decide to report the abuse, their first stop is Police, and that is where Tahire Haxholi's expertise comes in.
Captain Tahire Haxholli, who leads the Domestic Violence Investigation Unit in the Kosovo Police, is a very zealous woman working very hard to change the culture of toleration that permeates cases of domestic violence.
"For me family is everything, I grew up surrounded with lots of love, harmony and constant encouragement from my parents and siblings to chase my dreams," she explains. Her childhood dream was very simple: "I always wanted to help others and to tell them that we all deserve to be happy, no matter what others tell us," she explains.
After the conflict in Kosovo, it was very clear for her that she wanted to become part of newly formed police force in Kosovo and to give her contribution to society. Little did she know that she would become so involved as an important figure battling domestic abuse in Kosovo.
"They see me as their guardian angel, their hero," she explains proudly. "Since day one, I have thrown myself into every case. For me, family and happiness is incredibly important and for someone to lose all that in one day is very hard, therefore I treat every case with utmost respect and professionalism," she adds. It's the gratitude and sense of security of victims of abuse that keeps her going, reminding her to never give up and to reach for even better results.
Captain Haxholli is one of the best examples of many women who joined the security sector. She joined Kosovo Police immediately after the war, with the dream to thrive professionally and help others. While working as a regular police officer within the patrolling unit she was pursuing her law degree in Criminology, followed by her Master's degree in law specializing in the field of domestic violence. She started with small but confident steps, but now she currently holds top managerial position within the police force of Kosovo. "I was very dedicated to my work, I faced many difficult situations during my professional journey, but I always managed to overcome the difficulties and prove my managerial skills," she explains.
Her professional journey within the Kosovo Police started in year 2000 as a member of the patrolling unit, and then later she moved to the Community Policing Unit, where she stayed until 2003. That same year she was promoted to the investigator position focusing on domestic violence cases. She earned her first rank of Sargent in 2004 and only one year later she inevitably was awarded the role of the supervisor of the domestic violence sector. Parallel to her work and studies, she has also received extensive professional training all over the world. After receiving the rank of Captain, she was promoted to the Chief of the Domestic Violence Sector and is now on her way of receiving the rank of Major.
Domestic violence usually happens behind closed doors, and victims suffer in silence. However, according to Haxholli, in the past few years there has been an increase of reported cases of domestic violence in Kosovo. "This does not mean that there is a rise of domestic violence cases, but it means that victims are becoming more aware of their rights", she explains. Statistics show that only last year thousands of Kosovars reported domestic violence, out of which 90 percent of victims were women.
"Usually women are the victims, and in most cases children are involved too. The violence is reported only when considered intolerable," Haxholli explains, adding, "This means that we don't actually know how much violence is happening in one household, since it is only reported after many years of constant abuse."
According to Captain Haxholli, prevention should be the most important step towards tackling domestic violence. "Police officers from my unit use every opportunity to be closer to the community. Very often we organise lectures in schools, have conferences, and distribute brochures about what domestic violence is and about the rights of the victims," she explains. According to Captain Haxholli, most women are usually unaware of their basic rights. "The victim is usually told by their husbands or the perpetrators of the violence that they can't go anywhere, that they have no one and that they have their people in police," Haxholli elaborates.
Awareness-building is very important in the fight against domestic violence. Kosovo Police officers patrolling in the communities are eager to let victims know that they are there to help them. "We basically let them know that they are not alone. Building trust is crucial for us", Captain Haxholli explains.
In Kosovo, various institutions are responsible to protect the rights of persons who have suffered domestic violence. From the moment a case of domestic violence is reported to police, a shelter, a Center for Social Work, or a Victim's Advocate and other systems and procedures exist to ensure that each person receives assistance with filing a case, a medical examination if necessary, counseling, shelter, and support throughout judicial proceedings.
"In most cases, Kosovo Police is involved throughout the entire process of these cases and plays a fundamental role in involving other institutions. We too need support from other institutions so that we are able to achieve the best possible results," she elaborates.
Captains Haxholli appreciates cooperation and support that her unit receives from various international and local organisations such as UNMIK, KFOR, EULEX, OSCE, and others: "I appreciate and highly value all efforts and support received from each one of these institutions, because the message of our work becomes much stronger. We all learn from each other along the way," she says.
Tahire is not only known for her "stubbornness" in her fight to help the victims of domestic violence, but is also a famous advocate for women's rights within her own institution. She is one of the founders of Association of Women in the Kosovo Police, AWKP. "At that time, I was working very closely with UNIFEM to establish the association within the Kosovo Police so we could showcase the values of women to the police, to encourage them to join the police force and to break prejudicial and stereotypical attitudes," she maintains.
Being a strong believer in education, especially investing in women's education, she has a message for all young women in Kosovo and that is to get educated, be confident, resilient and never give up. "It is very important to educate yourself, education will build you up as a person and a professional, and that will automatically help you create a more independent position for yourself."

Back