From Holland to Pristina: Meet Jenny Filet
28 February 2018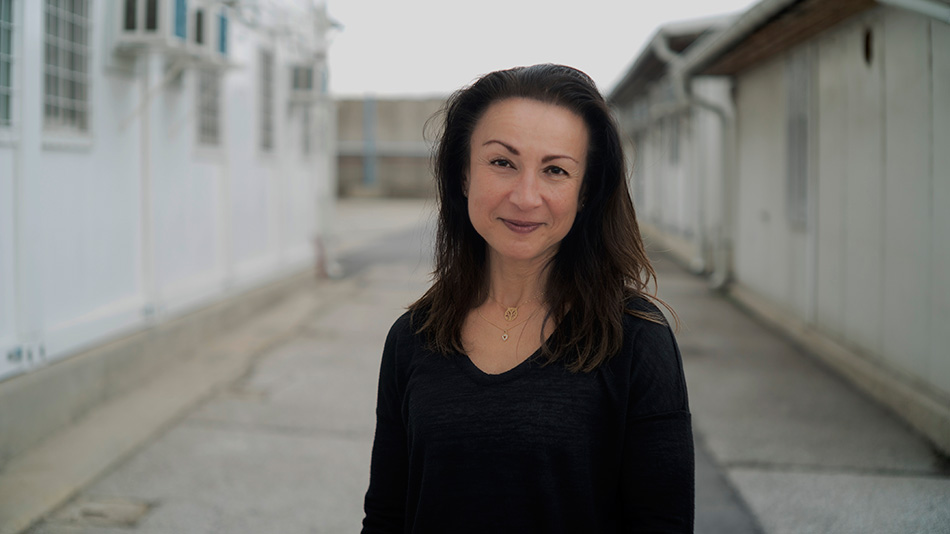 Whilst riding her motorbike from the canal streets of Amsterdam back home to Hoorn, Jenny Filet considered the prospect of leaving Holland to take on a new challenge. For 16 years she had worked as a detective in the Amsterdam Vice department, leading investigations and helping some of the most vulnerable in society. Yet now she thought it time to put her experience and skills to good use elsewhere.
Being part of a large family as the second youngest out of her seven siblings; family has always been important to Jenny. As much as the idea of working abroad always appealed to her, leaving her two sons and husband behind for her career, even just temporarily, was something she could never envision. Yet as her sons got older and with the support of her family, Jenny's interest was pricked and she began looking at where to go.
It was with this desire for a change of pace that brought her here to Kosovo. She arrived in August last year and works in Pristina as an Organized Crime Investigation Officer in the Executive Criminal Investigations Department. A lot of Jenny's job requires tying up the loose ends, and helping to finalize cases. When asked about her typical day, she says how as the mission comes to a close, most of her work involves, "conducting risk assessments for witnesses and working with the prosecutors to help sort through the finer details". It's a fast paced environment, "but I like the busyness of it all", she continues.
It's different to what she expected as she says, "In Holland I was totally independent, and when I got a case, that was my case and I led the direction. Here the jurisdiction is different." It's this change in working style that she struggled to adapt to the most, where she mentions how, "the Dutch mentality is different when it comes to levels of authority". Despite all of this, she smiles and is quick to point out, "I like my job in Kosovo and I feel that I can still make a difference. I find it incredibly satisfying".
Taking a job with EULEX isn't the first time Jenny has ended up on a path she didn't quite plan. In fact, when she was young she hated the idea of even being a police officer. Her father was previously in the military and as she says, 'at home he was quite strict and so back then it really put me off working in a position of authority'.
Instead, helping people, especially those most at risk has always been her passion. After finishing her studies, she worked as a social youth worker, but after a few years became disappointed and wanted to make more of an impact. So when offered the opportunity to join the police force, she was hesitant but for Jenny, "as cliché as it sounds, it's important to follow fate". So she took on the role and loved connecting with the people she was helping. "It was always about understanding why and not so much the punishment", she says.
Her time as a police officer started in surveillance and it was during this time that she first experienced investigating sex crimes. Then some years after, in 2001, Jenny moved to Vice where she covered not only Amsterdam but its surroundings, concerning investigations in sex crimes and child abuse. Her specialism became interviewing children who were victims to severe or sex crimes. "It was a harsh world", she affirms.
"It's most important to be yourself", Jenny says. This is what has been key throughout her entire career; especially working in male dominated environments like when she began as a police officer more than 25 years ago at Warmoesstraat station, in the center of the red light district. At the time, she was one of the first female officers in a group of twenty men. Yet, as she says, it's not about changing to fit with gender stereotypes but instead, "bringing our different qualities and strengths to make a great team".
Life isn't all about the work though. Moving abroad has been a big change for Jenny and she comments that it's her first time living alone since getting married; describing the experience as "empowering". Surrounded by internationals, socialising often and meeting so many new people is something outside her typical comfort zone, yet a side she's found herself embracing.
It's also exploring Kosovo that she most enjoys. Jenny admits to before being unintentionally naive of Kosovo as a place to visit, but says now she's seen its natural beauty, she wants to spread the word. This is something she wishes that the government would invest in and, "make more people aware of the scenery and tackle the issue of pollution. This country has so much to offer in terms of nature to visit on holiday!"
Still getting used to the morning commute of roads and cars instead of canals and bikes; Jenny makes the most of her weekends adventuring and taking advantage of Kosovo's great location. "It's easy to travel to neighboring countries, visit all the local treasures and it's nice to go with colleagues and explore new places".
But Jenny is always active and so when she's not exploring, she's exercising. Member of the gym and a running club, she also goes swimming, yoga and even sometimes hiking and skiing. Staying so fit is something she wasn't sure she could keep up before coming here but is glad to make the most of it.
Reflecting on her time so far, Jenny is grateful for the opportunity and time spent working in Kosovo. In discussing this, it is clear Jenny cares most about helping people and making a difference. She emphasises, "It's about good karma. If you have the right intentions and you want to do well, no matter how small you can pass on a positive effect".
Working here has opened her eyes to being based abroad and she is determined for this not to be the last time. Her plan is to continue her journey elsewhere, possibly somewhere in conflict and more in line with her physical training. "It wouldn't be easy but I would want to challenge myself to do it", she admits. For now though, she's first returning back home to Holland. Where besides getting to see her family, she will be reunited with what she says she misses most, her "bicycle".
Back