A convoy of the European Union Rule of Law Mission in Kosovo (EULEX) consisting of 10 EULEX vehicles and two special prisoner escort vans departed today from the Mission's headquarters in Pristina to support people in Ukraine affected by Russia's unprovoked and unjustified military aggression. The 10 vehicles will be donated to the Ukrainian Border Guard Service through the European Union Advisory Mission (EUAM) Ukraine. They are loaded with food and non-food items, including clothes, sleeping bags, personal hygiene items, and medical supplies, collected and paid for by EULEX international and local staff, which will be disseminated to the people of Ukraine. EULEX will also donate two special prisoner escort vehicles.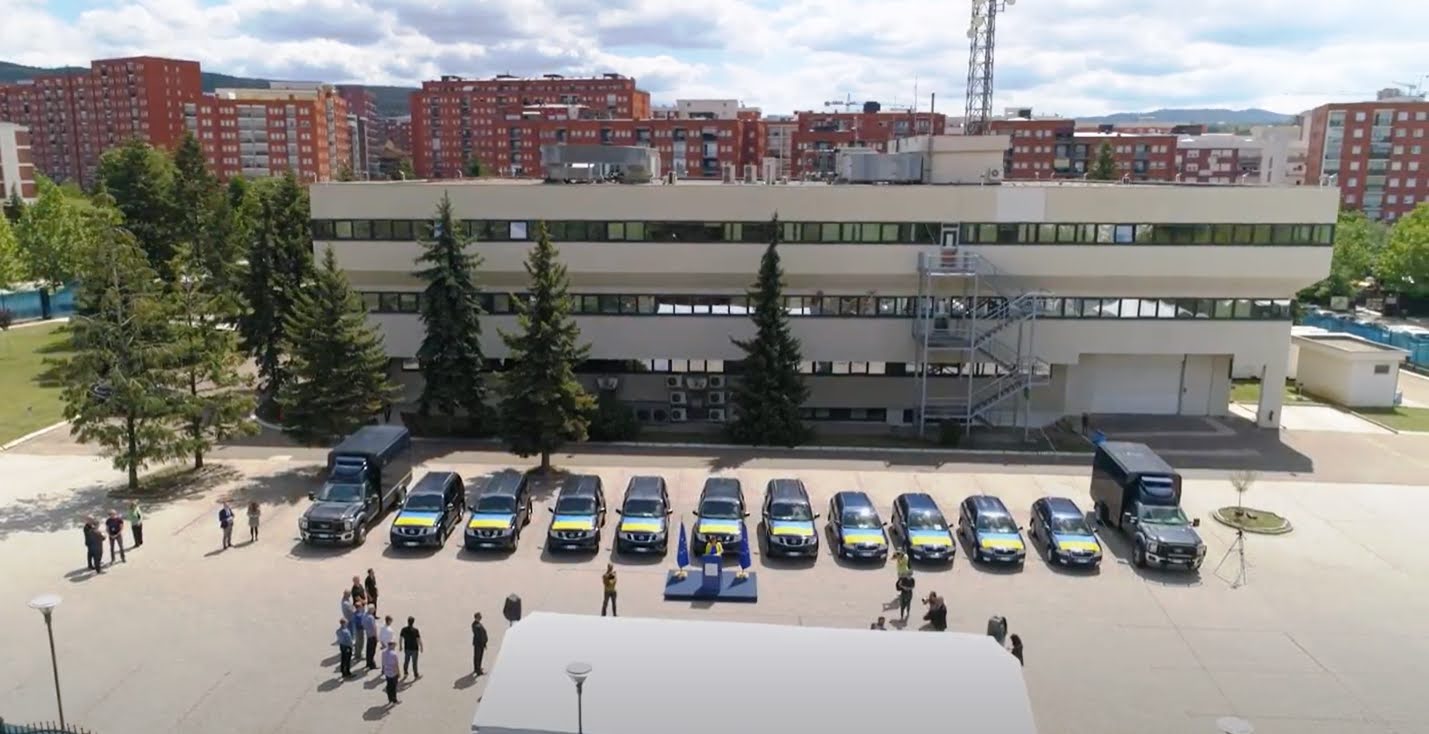 The departure of the convoy was announced by the Head of EULEX, Lars-Gunnar Wigemark, in the presence of the Deputy Prime Minister and Minister of Foreign Affairs and Diaspora, Donika Gërvalla-Schwarz, the Head of the EU Office in Kosovo / EU Special Representative, Tomáš Szunyog, the Senior National Representative of Ukrainian Contingent within KFOR, Ivan Nastenko, and four Ukrainian journalists who reside in Kosovo.

"We hope this support, coupled with the support of the whole EU, will help the people of Ukraine, many of which have been forced to flee their own country. Of course, many Kosovo citizens know well through first-hand experience what it means to become a refugee and be exposed to aggression," Wigemark said, adding: "Kosovo's solidarity towards Ukraine is apparent in many ways, including the 'Journalists in Residence Programme'. Kosovo has aligned itself with nearly all EU Common Foreign and Security positions and I look forward to the day – in a not too distant future – when Kosovo will participate in Common Security and Defense Missions. Through its actions Kosovo is proving where it belongs."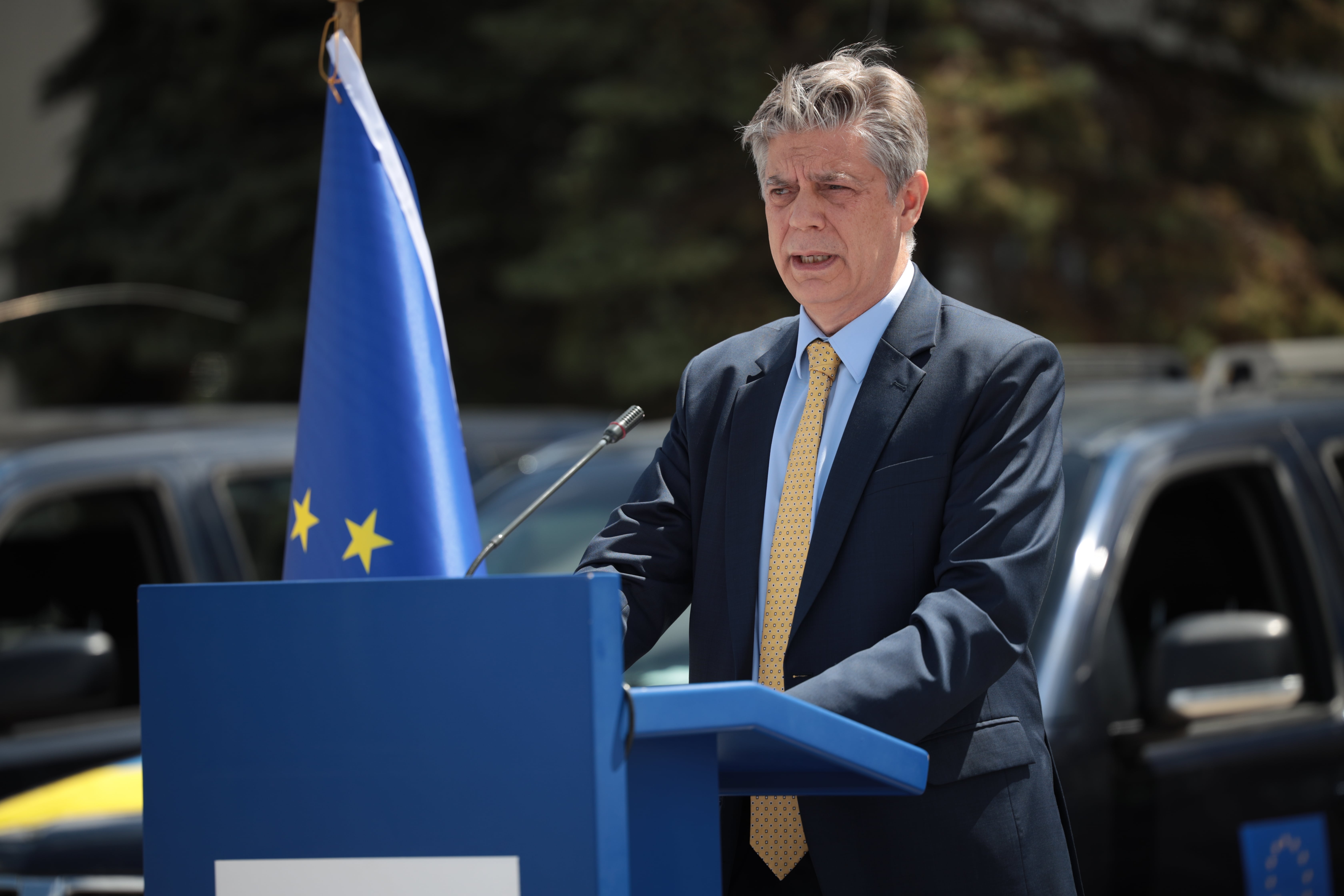 Donika Gërvalla-Schwarz, Deputy Prime Minister and Minister of Foreign Affairs and Diaspora expressed Kosovo's solidarity towards Ukraine adding that her country expects everyone in Europe to show not only solidarity, but to also ensure that this war ends as it must end: with Ukraine winning the war. "We know that you fight the war for all us Europeans and we should all stay very strong on your side. Let me ask you to bring this message to Ukraine," Gërvalla-Schwarz said, adding that Kosovo people understand very well what Ukrainians are going through.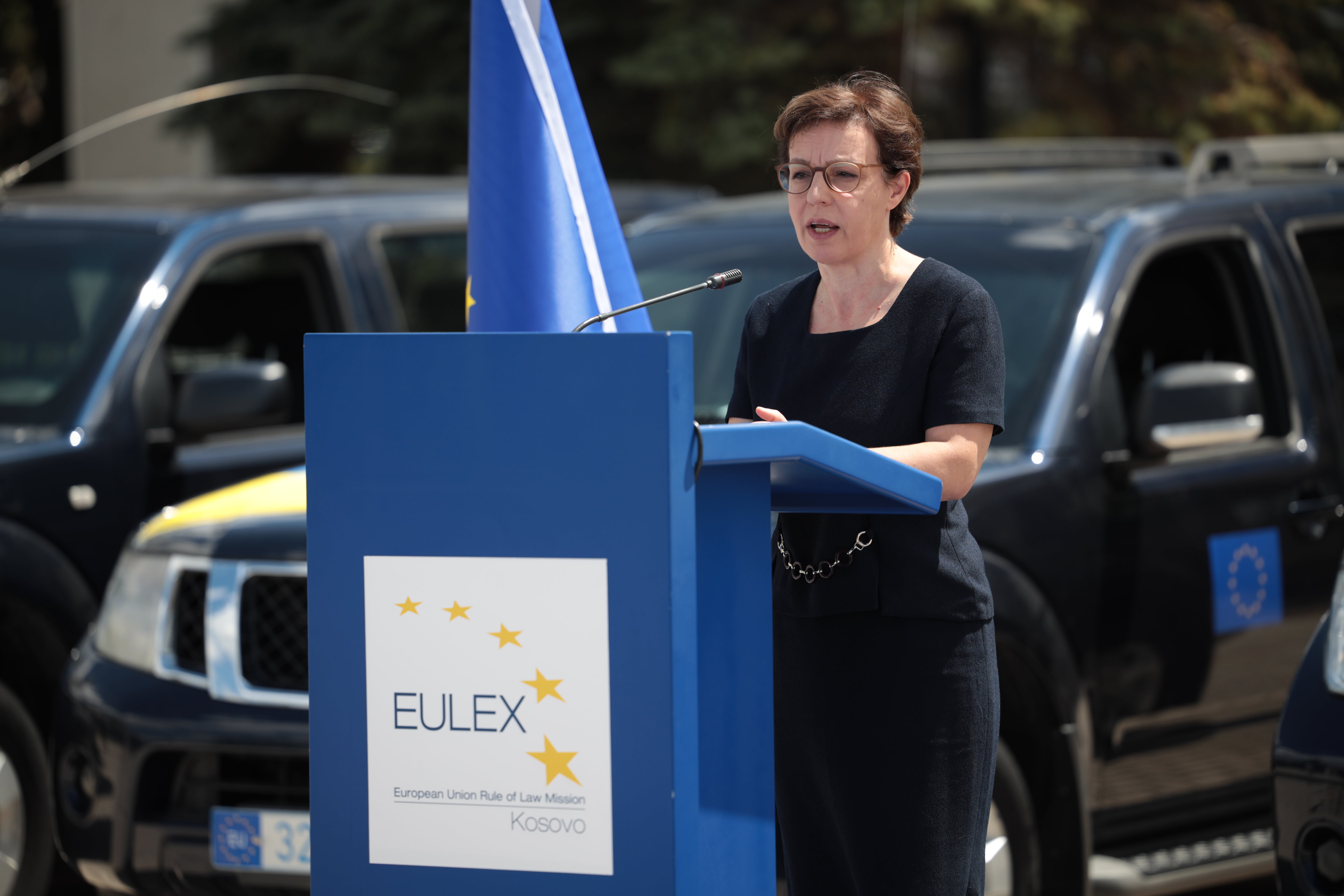 The Head of the EU Office in Kosovo / EU Special Representative, Tomáš Szunyog, stated: "The war in Ukraine is the most serious geopolitical and security challenge to Europe and I am proud that the European Union has reacted very clearly and very strongly. It is united in supporting Ukraine and it is united in also sanctioning Russia and providing significant humanitarian and security assistance". Stressing that Kosovo has clearly aligned with the European Union and other Western partners, Szunyog added: "This is a very strong message and we are taking this message clearly as a demonstration that Kosovo belongs to the family of European countries."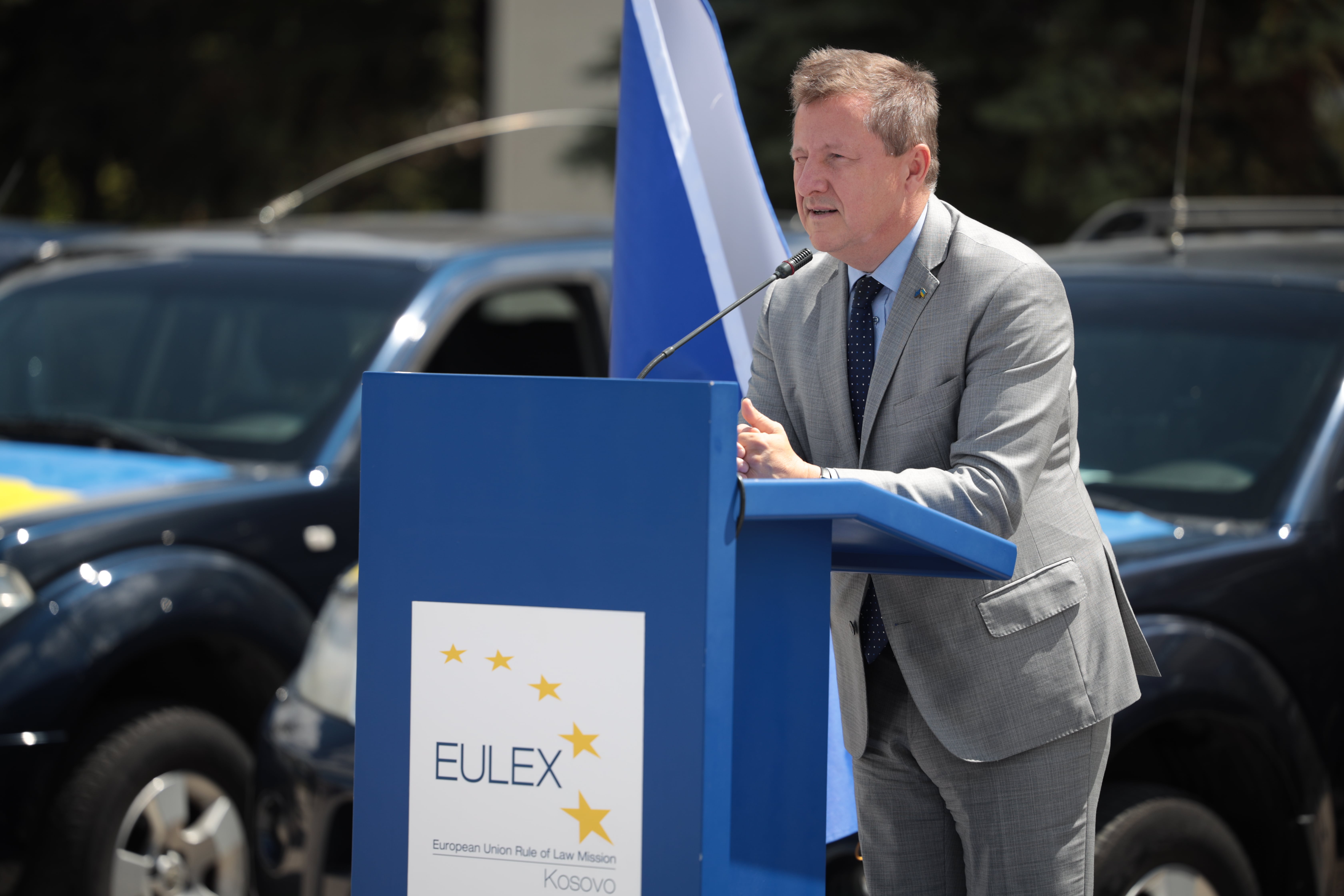 The Senior National Representative of the Ukrainian Contingent within KFOR, Ivan Nastenko, expressed deep appreciation to EULEX for the collected donations: "I am very proud to be here today and serve among international partners and colleagues who are anytime ready to shoulder the burden. This sends a great signal to the entire world that Ukrainians are not alone in this war. Believe me, for soldiers, this is extremely important. This is a feeling of encouragement."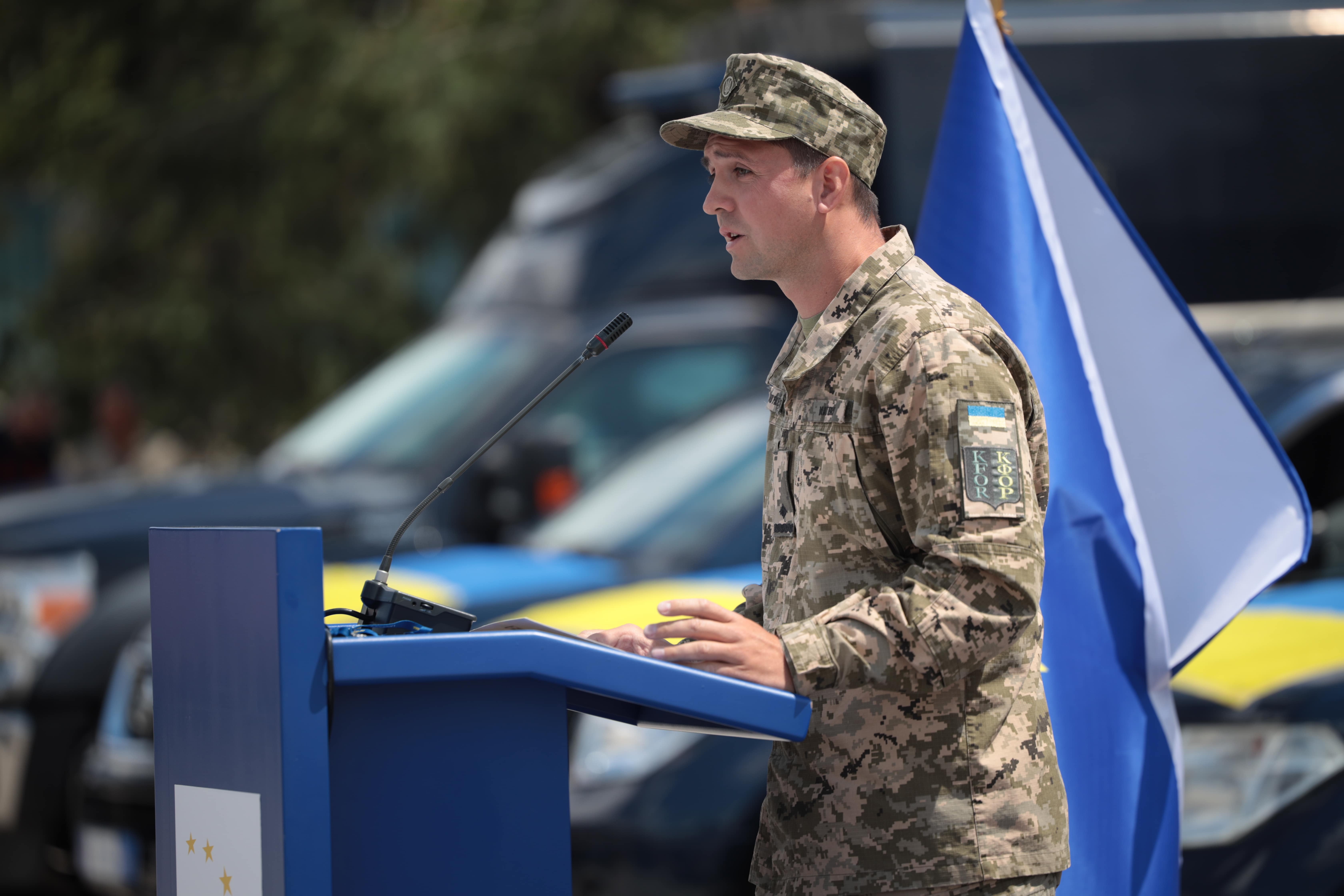 The Head of EUAM Ukraine, Antti Hartikainen, commended the donation and highlighted: "In response to Russia's military aggression against Ukraine, EUAM has supported its partners through the donation of material and equipment such as first aid kits, personal protective gear and vehicles. The donation of these vehicles by our sister Mission EULEX Kosovo is a tangible example how the heroic defence of the Ukrainian nation has inspired the whole EU community to help and to support Ukraine. EUAM is delighted to pass these vehicles on to the Ukrainian Border Guard Service, one of the Mission's key partners. I would like to express my sincere thanks to EULEX Kosovo and its staff for this generous initiative which demonstrates the added value that close cooperation between our civilian Missions generates."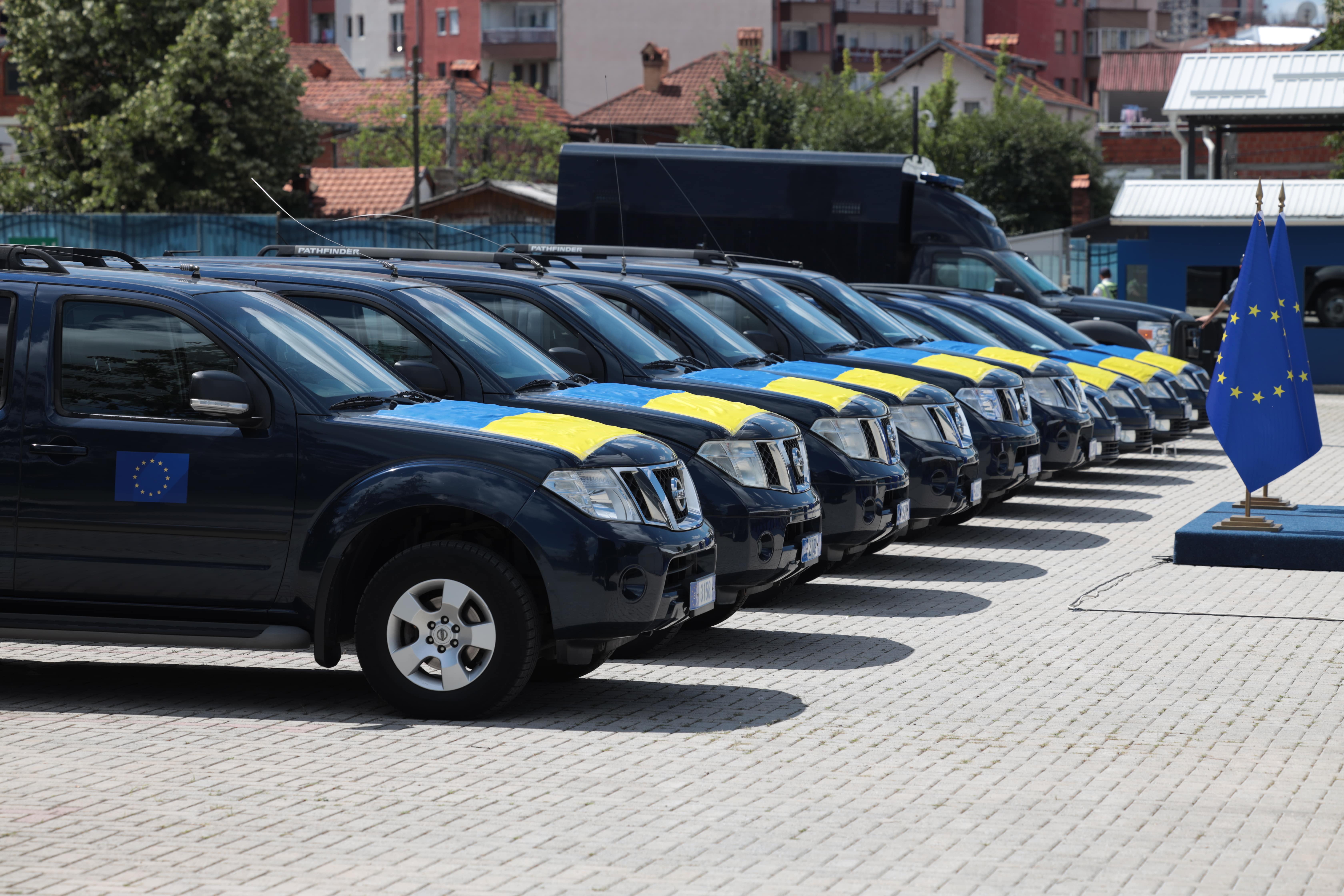 The donation of vehicles is part of EULEX's broader support to EUAM and its work in Ukraine. Since the beginning of Russia's war of aggression against Ukraine, EULEX has donated 35 armored vests, 35 helmets and additional equipment to EUAM Ukraine. The Mission has also shared its expertise in war crimes investigations with colleagues in EUAM Ukraine, who support Ukrainian authorities in investigating and prosecuting war crimes committed during Russia's aggression against Ukraine. Last month, EULEX handed over in-kind donations and cash contributions collected by EULEX staff to 23 internally displaced families through EUAM Ukraine.
Drone footage is available here:
A video of the event is available here: