Around thirty civil society representatives coming from various NGOs dealing with women's rights and minority issues gathered in EULEX premises in North Mitrovica on April 28, to discuss challenges and ways ahead in tackling the problem of domestic violence. Nenad Djuric, Regional Commander North, Joachim Wenz, Head of Executive Investigation Department in EULEX, Jesse Damewood, Police Strenghtening Department Advisor in Mitrovica North and Katja Dominic, EULEX judge were also present at the meeting.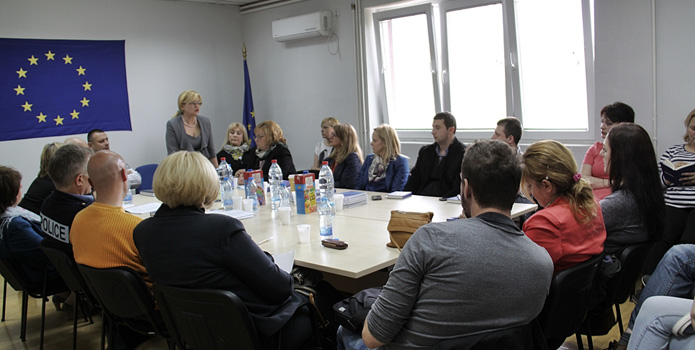 In an area where, according to civil society research, every third woman is either a subject or has witnessed some form of violence, a holistic approach to the problem that includes prevention and education, as well as the support for the victims might be the solution.

According to Ruzica Simic, director of NGO Zensko pravo, there is an urgent need to create a victim's centre that would encourage the women to come forward to report the abuse, at the same time providing them with a place where they would receive some legal and emotional support. Blagica Radovanovic, director of Santa Marija NGO, pointed out that domestic violence is a reflection of a wider problem plaguing the North. She pointed out: "Young people in the North are surrounded by violence. Growing up in an atmosphere where the violence is occurring in the public spaces such as schools, streets and their families, they soon begin to treat it as normal". She said that civil society, the police and state institutions ought to be more directly involved in solving the problem.

Nenad Djuric, Regional Commander North, emphasised the difficulties the police are facing when dealing with the victims of violence. "Our prevailing problem is that they often change their statements or are too intimidated to come forward and report about the abuse", he said, stressing that an increased campaign against the violence in the society might be the solution for the North.

Katja Dominic, EULEX judge, highlighted existing EU legal provisions dealing with domestic violence,that led to amendments of the criminal code in some EU countries, whilst the other EU member states preferred to adopt the special law to deal with the issue. She emphasised the need for additional training for prosecutors and judges, as well as the use of available means to additionally protect the victim during the judicial process.