Today Kosovo Customs marks EULEX's contribution to the progress achieved which will end the supervision of the service but will retain EULEX strategic advice role for the future.
Kosovo Customs (KC) has shown remarkable growth over the past years of EULEX's mandate. This steady progress is evidence that the EU's assistance –provided through EULEX advisors – has been well invested.
Over the recent years, EULEX has provided its Monitoring, Mentoring and Advising services to Kosovo Customs in the significant reforms of KC. Kosovo's revenue collection during EULEX's previous mandates has increased every year.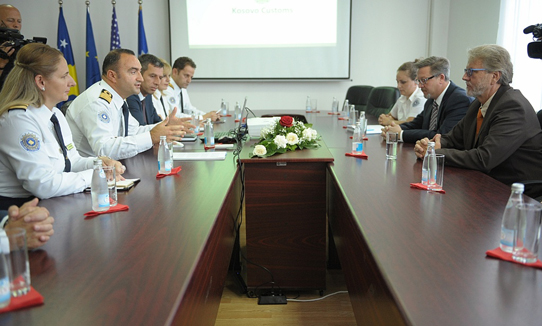 "Custom has made significant progress toward EU standards with the assistance and guidance from our international friends which have helped us in making Customs a modern and contemporary institution one of the most successful in Kosovo ", stated Director General of Kosovo Customs, Lulzim Rafuna.
Along this development, the US Embassy in Kosovo also played a crucial role. Through the United States Government continuous support, Kosovo Customs sets today an example also in the region.
On this occasion, the Acting Head of EULEX Mission, Bernd Thran said "Kosovo Customs has demonstrated a remarkable growth over the period of EULEX's mandate. These outstanding results are attributed to the introduction of new reforms and anti-corruption measures as well as improved procedures and compliance, which Kosovo Customs, with support from EULEX, has launched over recent years.
"Kosovo Customs is expected to collect over a billion euros this year, which I am sure it will achieve if it continues on this track. This is important: all this money goes into Kosovo's budget, and this budget allows the government to provide more services for the people of Kosovo." he added.
In line with the new EULEX mandate, the support for Kosovo Customs will now be focused on offering strategic advice in relation to the administration's core priorities, in enhancing the effectiveness of Kosovo's overall border management and also in supporting the ongoing Dialogue between Pristina and Belgrade.