02. februar 2012. god.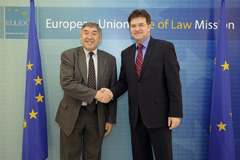 2 February 2012, Pristina
Yesterday, the Head of EULEX Xavier de Marnhac welcomed Miroslav Lajčák, European External Action Service (EEAS) Managing Director for Europe and Central Asia
During the meeting, Lajčák was briefed about the current situation and mission priorities for this year: the continued fight against corruption and organised crime, support for the Dialogue, as well as restoring freedom of access in the north, in particular to the Mitrovica District Court. De Marnhac emphasized the good cooperation prevailing between the Kosovo institutions and the European Union actors present in Kosovo.
"I look forward to closely cooperating with newly appointed Head of the EU Office in Kosovo Samuel Žbogar. We all have the same goal of bringing Kosovo closer to EU standards", said de Marnhac to Lajčák.
Natrag